Debut Review: Moth and Spark by Anne Leonard
Pacing is something I think a lot about when I'm working on a novel. And something we talked a lot about in my Popular Fiction workshops: some genres, like romance, have specific conventions around when certain events (like the love interests meeting) absolutely must happen. Anne Leonard's debut, stand-alone Fantasy Moth and Spark, took my expectations of pacing and threw them out the window in a daring and entirely fruitful way.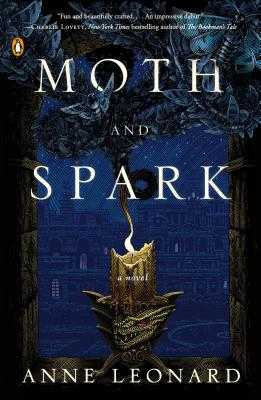 At its heart, Moth and Spark is a love story. I expected the heroine and hero to meet quickly, and was surprised when they didn't. Sure, they saw one another on page 20, but it's not until page 77 that they actually meet and speak to one another. In between there's murder, visions, dragon-riding, and a steady build-up toward war. The courtship between Tam and Prince Corin is fast and furious—and completely fun. Their alternating viewpoints allowed me to experience their relationship from both of their perspectives, which especially appealed to me as a hopefully romantic newlywed. Their relationship felt comfortable and natural—so natural, in fact, that when I was facing a challenge in getting my protagonists into a similarly comfortable love, I reread Moth and Spark to get inspiration. And believe me, I don't reread often!
The romance develops in lockstep with the Fantasy world of Caithen, which includes everything from fire-making spells to dragons. And oh, what dragons! Dragons that can manipulate time, dragons that one should never look in the eye, dragons that speak in images. I spent years trying to figure out how animals and humans would speak to one another in my Fantasy world, and I wish I'd come up with something as interesting as Leonard's dragon imagery. Dragons pop up all over the novel, both in the flesh and in iconography, and serve as a metaphor to the country of Caithen being forced to be part of a larger Empire.
There's a lot of world-building, being a Fantasy novel (even though Penguin categorized it as "Fiction"). So much world-building that at times I was afraid that Leonard would run out of pages for the war that the whole plot was bubbling up to. War wasn't actually declared until page 191, and the first battle didn't happen until page 244 (of 368). But Leonard handled her plotting with deft skill, pulling me along quite happily. I think that part of my expectation for a faster build-up came not just from genre conventions I've been taught as an author, but also from the jacket copy, which references the "village of secret wizards" that doesn't appear until the last third of the novel.
This is one of those books that had such powerful descriptive passages that I had to mark them so that I could easily come back to them later. Physical descriptions are my kryptonite, so I'm always on the lookout for great descriptions that I can take inspiration from. I especially loved Leonard's description of an ambush (page 93), the crowd and attractions at a festival (145) and a dragon-powered duel that played with time (339; yes, that description of the description doesn't make much sense out of context. You'll just have to read the book!).
It's difficult to find really well-written, absorbing stand-alone Fantasies, and Moth and Spark is a wonderful example of this. Though I would gobble up a second book the moment it was released!
Debut Review: While Beauty Slept 👈 Previous